Guest lecture by Prof Philip Seib at DCU
Prof Philip Seib will deliver a seminar on "Journalism and Diplomacy in a Post-Truth era" on Wednesday 24th May at 14:00, room C167, Glasnevin Campus, DCU.  This talk is co-organised by the Institute for Future Media and Journalism (FuJo) and IICRR.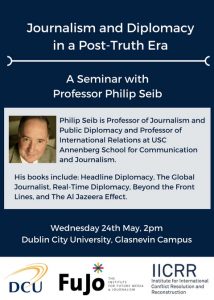 Philip Seib is Professor of Journalism and Public Diplomacy and Professor of International Relations at USC Annenberg School for Communication and Journalism. His books include: Headline Diplomacy: How News Coverage Affects Foreign Policy; The Global Journalist: News and Conscience in a World of Conflict; Broadcasts from the Blitz: How Edward R. Murrow Helped Lead America into War; Beyond the Front Lines: How the News Media Cover a World Shaped by War; New Media and the Middle East (2007); The Al Jazeera Effect (2008); Toward a New Public Diplomacy: Redirecting U.S. Foreign Policy (2009); Real-Time Diplomacy: Politics and Power in the Social Media Era (2012); and The Future of Diplomacy (2016).
He is also the editor of the Palgrave Macmillan Series in International Political Communication, co-editor of the Palgrave Macmillan Series in Global Public Diplomacy and co-editor of the journal Media, War and Conflict, published by Sage.