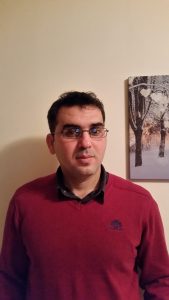 Conflict Resolution, International Politics, Development and Civil Society, MENA, and Peacebuilding
Dr Ibrahim Natil teaches politics and business at Centre for Talented Youth, CTY Ireland at Dublin City University (DCU). He is also a fellow at Institute of International Conflict Resolution & Reconstruction at DCU. He is also a former visiting fellow at School of Politics and International relations, University College Dublin-UCD. He is an international development consultant and worked for many international NGOs. He also launched and managed more than 56 human rights, women's empowerment and peacebuilding programmes and projects since 1997. He was being nominated for Tällberg Foundation Global Leadership Prize 2016. He authored and published several articles and book chapters on a wide range of conflict resolution, peacebuilding, human security, NGOs, revolutionary movements, political violence, and the Middle East in Journal of Peacebuilding and Development, Routledge, Pluto, Palgrave, Journal of Conflict Transformation and Security, Inter-Disciplinary Press and Springer. He is the book author: Hamas Transformation Opportunities and Challenges, Cambridge Scholars, 2015. He presented over 32 papers at conferences during the last six years throughout Europe. He also writes to Independent Australia website.
Books
Ibrahim Natil (2015) 'Hamas Transformation: Opportunities and Challenges', Cambridge Scholars publishing, http://www.cambridgescholars.com/hamas-transformation
Peer Review Journals and Book Chapters
Natil, I.  (2017) Civil state in the post Arab Spring Countries: Tunisia, Egypt and Libya, "the Arab Spring, Civil Society and Innovative Activism", edited Cenap Çakmak Palgrave Macmillan Publishers Ltd http://www.palgrave.com/us/book/9781137571762
Natil, I. (2017) Youth Movement and Arab Spring, "Non-Western Social Movements and Participatory Democracy in the Age of Transnationalism" edited Ekim Arbatli, Dina Rosenberg, Springer http://link.springer.com/chapter/10.1007%2F978-3-319-51454-3_3
Natil, I. (2017) Turkish NGOs in the Arab Spring: Human Security or Foreign Policy Agenda? "The New Turkey? Domestic and Regional Uncertainties", Edited Ozgur TUFEKCI, Cambridge Scholars Publishing. http://www.cambridgescholars.com/domestic-and-regional-uncertainties-in-the-new-turkey
Natil, I. (2016) "Turkey's Foreign Policy Challenges in the Syrian Crisis." Irish Studies in International Affairs, 2016, pp. 1–10 www.jstor.org/stable/10.3318/isia.2016.27.8.
Natil, I. (2016), the Challenges and Opportunities of Donor-Driven Aid to Youth Refugees in Palestine, Journal of Peace building and Development http://www.tandfonline.com/doi/full/10.1080/15423166.2016.1197791.
Natil, I. (2016) Book Review: Marwan Darweish & Andrew Rigby, Popular Protest in Palestine: The Uncertain Future of Unarmed Resistance, Journal of Nations and Nationalism, http://onlinelibrary.wiley.com/doi/10.1111/nana.12286/full
Natil, I. (2016) Turkish international NGOs and the Arab Spring 'Las ONG internacionales turcas y la Primavera árabe' "Un retrato de la Turquìa Contemporànea. Visiòn general y perspectivas" edited Alessia Chiriatti, Manuel Ferez and Federico Donelli, Escuela de Relaciones Internacionales and the Universidad Anàhuac, (Spanish Translation) http://www.academia.edu/29701138/Un_retrato_de_la_Turqu%C3%ADa_contempor%C3%A1nea_Visi%C3%B3n_general_y_perspectivas.pdf
Natil, I. (2016) Internationally Sponsored Conflict Resolution Programming for Youth, "Conflict Transformation and the Palestinians: The Dynamics of Peace and Justice under Occupation' edited Alpaslan Ozerdem, Mufid Qassoum and Chuck Thiessen, Routledge, https://www.amazon.com/Conflict-Transformation-Palestinians-Occupation-Resolution/dp/113866653X#immersive-view_1480953046041
Natil, I.  (2014) A shifting Political Landscape: NGOs Civic Activism and Response in the Gaza Strip, 1967–2014, Journal of Peacebuilding & Development, 9:3, 82-87,DOI: 10.1080/15423166.2014.983369 http://www.tandfonline.com/eprint/eRqViyvFQnnqi4mX4kVK/full#.VJiu214iA
Natil, I. (2014), The Palestinian NGOs and the Arab Spring', Revolt and Revolution: Reaching for the Possible, ed. Amal Treacher Kabesh and James Arvanitakis, Inter-Disciplinary Press,
Natil, I. (2014) ' Violence and Youth in the Occupied Palestinian Territories: Gaza Strip Case Study (2000-2012) Violence in the Contemporary World: An Interdisciplinary Approach, ed. Paromita Chakrabarti, Natália De'Carli and Joana Patrício, Inter-Disciplinary Press Oxford, United Kingdom, 2014 p 89-96
Natil, I. (2013), Turkey's Human Security Agenda in the Gaza Strip', Human Security in Turkey Challenges for 21 Century, ed. Alpaslan Ozerdem and Fusun Ozerdem (London and New York: Routledge Press, p 198-211
Natil, I. (2012) 'Hamas: between Militarism and Governance', Peacebuilding and Reconciliation Contemporary Themes and Challenges, edited by Marwan Darweish and Carol Rank. London: Pluto Press. p 166-182 http://www.peacepalacelibrary.nl/plinklet/index.php?ppn=352162813
Natil, I. (2011) Hamas between Militarism and Governance, Journal of Conflict Transformation and Security, http://cesran.org/hamas-between-militarism-and-governance.html
Blog posts
Writer/ Contributor to Australia Independent Online, the journal of democracy and independent thought). https://independentaustralia.net/profile-on/ibrahim-natil,481
Ongoing Projects
Book:
Civic Grassroots Activism, Participatory Engagement and Community Peace-building
This project provides an up-to-date analysis on civic grassroots activism, participatory engagement and community peace-building challenges and lessons. It also examines the impact of civil society organisations in politics, power and its impact on young people life from 2002-2016. The purpose of this book, in the field of international relations, development, peace studies, conflict resolution and conflict strategy, is to explore the learnt lessons of young people's engagement in civic and political life, despite the social conservatism and political deadlock.
Edited Volume:
Power of Civil Society: Change, Development and Peacebuilding
This volume studies the roles of civil society in MENA in terms of mobilization, ideologies, conflict resolution, civic engagement, and peace-building. This includes case studies from Morocco, Niger, Palestine, Jordan, Nigeria, Iran, Egypt etc.
Selected Conferences /Presentations
Presented in more than 32 different conferences and seminars on a wide range of topics since September 2012 and selected presentation as follows:
Civic activism, participatory engagement and community peacebuilding, DSA UK, Manchester University, June 27, 2018.
Women's engagement in non-violence resistance, Palestinians and Kurds day to day resistance conference, Coventry University, June 22, 2018
International NGOs: women's community peacebuilding and development, DSA Ireland, November 23-24, 2017
Civil society and youth Movement; DAVO Conference, Jena University, September 18, 2017.
Civil society organisations: peacebuilding and development, sustainability interrogated Conference, Development Studies Association, University of Bradford September 7th,2017
National Identity: Northern Ireland and Palestine, University of Illinois, September 23, 2016
Local and international organisations intervention in Libya, Conflict Research Studies Conference, Trinity College Dublin, September 8th, 2016
Does Turkey's Foreign Policy Fail in Syria?, Royal Irish Academy, May 30, 2016
Civil Society Challenges, Arab World Institute, Paris, March 19, 2016