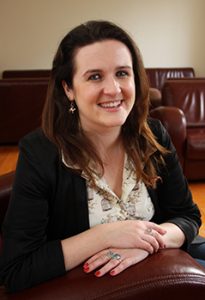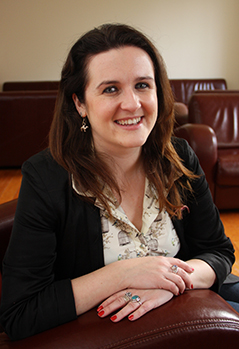 Popular culture and international relations; representations and narratives of political violence and extremism; narratives of counter-extremism; propaganda; the visualisation of war and counter-terrorism; grounded theory.
Background & Qualification
MA International Relations, Dublin City University 2006
BA European Studies, Trinity College Dublin 2003
Orla has a background in arts and human rights education, having worked in education roles at Fighting Words (2009-2013), Amnesty International (2006-2007), Front Line (2007-2008) and National University of Ireland Galway (2008-2009).
Countering Violent (Online) Extremism: A Grounded Theory Study into Grassroots CVE Practitioners.
Countering violent extremism (CVE) is a major contemporary policy preoccupation, with millions of Euros earmarked for programmes in the EU alone.  This is a direct response to the increasingly sophisticated spread of violent jihadi narratives and propaganda, particularly online, in a variety of formats. Growing policy emphasis is thus being placed on the idea of developing 'counter-narratives' in response to extremist messaging.  However, little research has to-date been carried out regarding the effectiveness of this approach.  Increasingly a variety of actors are becoming involved in the creation of counter-narratives, from government agencies to NGOs to former extremists operating outside the 'formal' CVE sector.  These counter-narrative efforts are moving to the online space, making use of social media.  This research considers those operating at grassroots level in the area of CVE, using a grounded theory approach to uncover these actors' main concerns and to account for their actions.
To do this a variety of grassroots CVE operators and their work was critically assessed.  This analysis includes exploring and considering the content of each project along with the media coverage they have been receiving, establishing how the different efforts are being perceived. In addition, interviews were carried out with the creators of the projects to establish their motivations and the background to each.  The context in which these projects have developed is also considered, locating the research in the framework of CVE policy.
Acknowledgment: This research is supported by an Irish Research Council Postgraduate Scholarship
Selected Publications:
Breslin, Andrea & Lehane, Orla. (2015) 'A Theatre of War – Setting the Stage for a Critical Reflection on human Rights Violations in Armed Conflict.'  Creating Rights, 6 February.
Lehane, Orla. (2014) 'Never Alone in Iran.' In: Thompson, Gemma.  (2014) A Girls' Guide to Travelling Alone: Inspiring true tales from solo women travellers.
Lehane, Orla (2014) 'The Last Hijack – Animation in Documentary Filmmaking.'  Headstuff.org.
Lehane, Orla (2014) 'Comics Unmasked – Art and Anarchy in the UK.'  Headstuff.org.
Lehane, Orla (2014) 'Pleasing Petra.' U Magazine. October.
Lehane, Orla (2012) 'Lost in Imagination: An Interview with Carlo Gébler.' Inis Children's Books Ireland Magazine. Summer.
Khoo, Su-ming, Orla Lehane. (2008) 'Globalisation and the re-imagination of research, teaching and learning in Irish Higher Education.' Policy and Practice: A Development Education Review Issue 7, Autumn: 18-34.
Gallagher, Ruth, Orla Lehane & Brian Ruane (Eds) (2007) Voice Our Concern: Film and Photography Workbook: A Human Rights Educational Resource. Amnesty International Irish Section
Selected Conferences:
Lehane, Orla (2015) 'Illustrating Human Rights in Conflict Zones: La Lucha and the Fight to End Violence Against Women in Mexico.'  International Studies Association – Annual Convention.  Atlanta, 16 – 18 March 2016.
Lehane, Orla (2015) 'Countering Online Violent Extremism: Harnessing the Social Media Power of Millennials.' International Studies Association – Annual Convention.  Atlanta, 16 – 18 March 2016.
Lehane, Orla (2015) 'Animating CVE – the use of Comics and Animation in Countering Violent Extremism.'  International Studies Association – Annual Convention.  New Orleans, 18 – 21 February.
Lehane, Orla (2015) 'Animating War: Waltz with Bashir as an Attempt to Make Sense of War.'  Disappearing War: Cinema and the politics of erasure in the war on terror.  Interdisciplinary research workshop, University of Reading, 13 April.
Lehane, Orla (2015) 'Animating Counter-Narratives: Abdullah – X and the Quest for Positive Change.' European Network for Comparative Literary Studies.  6th Biennial Congress "Longing and Belonging."  Dublin City University/NUI Galway, 24 – 28 August.
Lehane, Orla (2014) Animating Counter-Narrative: The Use of Cartoons in Response to Violent Extremist Messaging.  Popular Culture and World Politics 7.0, University of Ottawa, Canada, 21-22 November.
Lehane, Orla (2014) 'Animating "The Troubles": Northern Ireland in Troubled Souls (1989).  Violence: A Conference on Comics.  Central Library, Leeds, 13-14 November.
Lehane, Orla (2014) 'Animating CVE – Online Animations as a Form of Counter-Narrative.'  Presentation at inaugural VOX-Pol Conference, King's College London, August.
Khoo, Su-ming, Orla Lehane & Felipe Revollo. (2008) 'The Globalisation of Higher Education: Key Meanings and Directions for Development Education.' June.  (Poster submission for Centre for Excellence in Learning and Teaching Critical Thinking Symposium, National University of Ireland, Galway).
Selected Publications:
2013/2014: Tutor for 'Research Methods' module, 1st years BA International Relations
'Contemporary Terrorism.'  Guest Lecture, NUI Maynooth, 19 January 2015.
'The Graphic Novel.' Guest Lecture, School of Applied Languages and Intercultural Studies, Dublin City University, 2 March 2015.
'Creativity in the Classroom.' Guest Lecture, School of Education, Dublin City University, 31 March 2015 & 2 April 2015.